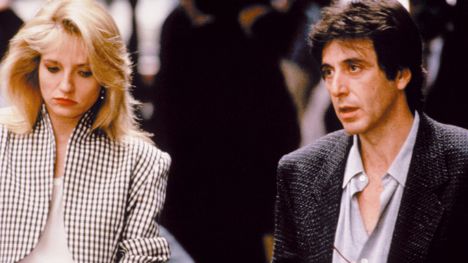 An awkward relationship.
Film Review Archive (date seen: December 8, 2010)
Though it's the main motif of the film, the title "Sea of Love" was quite misleading when I first saw it, as it sounds more like an ideal title for a romantic pocket book than for a mysterious thriller. Al Pacino is obviously

comfortable in playing the cop protagonist, a common role that he would soon portray heftily after this film's release, squeeze out from it memorable performances after another, and put it end on end as the polar opposite of his gritty gangster roles.
"Sea of Love" has a very good first-half that flowed so effortlessly (with the help of the very entertaining John Goodman) I haven't even noticed that I'm already halfway done. But the latter part which involved the plot's main revelation is quite predictable, not because of flawed writing, but by a critical casting choice that pretty much gave the film away. (SPOILERS) I have nothing against Michael Rooker, but come on, this actor garnered immense cult fame by playing Henry Lee Lucas in "Henry: Portrait of a Serial Killer". Would you really expect him to just play a naive, good-natured witness in a bit part? The killer instinct in his eyes that gave me nightmarish jitters while watching "Henry" suggested that he would certainly not.
Richard Jenkins is quite good as the subdued Gruber (way before anyone even thought of mentioning his name and 'Oscar nominee' in the same sentence), and a then-unknown Samuel Jackson as a criminal attending the "Meet the Yankees" breakfast, almost two years before his head was blown off by Joe Pesci in "Goodfellas".