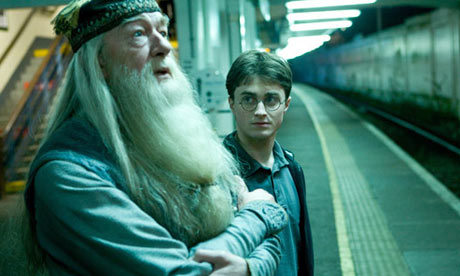 The two with a task.
Now this is what's great when a Potter film is done particularly right. After a slightly weak effort in "Harry Potter and the Order of the Phoenix", director David Yates has replenished this film with a brilliantly balanced mix of teenage love (developing between Potter and friends) and the gritty abundance of dread polluting and tinting the air as the brooding presence of the Dark Lord is getting more and more overwhelming and his powerful than ever arrival a pure inevitability.

For the first time, although it initially looked like "Harry Potter and the Half-Blood Prince" will be a conflicted film, tone and theme-wise (whether it will emphasize the romantic subplot more or fully focus on the desperate quest to uncover Voldemort's secrets and exploit a loophole in his self-achieved immortality), it came out as a great combination of both and ended up as a truly ideal film in the franchise that can appeal both to those who seek the obviously inescapable romance between our heroes (mainly the teenage audience) and those who like their Potter film broodingly stirred and menacingly thawed.

Daniel Radcliffe, who I found to be quite stiff in the previous chapter, has qualitatively raised his performance a notch higher and looked more comfortable and eager as the lightning-scarred chosen one. On surface level, his character may look too hard to comprehend. One scene he is as confident as ever, but in the next, he's as insecure as the next nerdy fellow. He may be a reluctant hero, but his Harry Potter role can be viewed, especially in this film, as a representation of the destruction of people's 'not a care in the world but confused as all hell' teenage monotony. A cyclic stage in one's life broken by one's choice to move deeper and deeper into the intricacies of a dangerous, world-threatening affair as part-curiosity and part-bravery.

Maybe 'revenge' is Potter's ultimate goal, but looking at his numerous adventures that seems to beat more around the bush than to progress, I can quietly see that J.K. Rowling attached this 'retribution' scenario (and also the 'chosen one' prophecy) as subtle MacGuffins to subtly move the whole intricate plot line so that her characters' countless adventures can be wholly justified. After all, "Harry Potter" is essentially a children's fantasy book, a genre where bulks of make-believe journeys are nothing but commonplace.

But back into the whole "Half-Blood Prince" situation, it was a beautifully placed (and enhanced by the film's revelations' seamless narrative timing) penultimate complication that creates what seems like momentary displays of adolescent happiness and then juxtaposing these emotional elements with the contrasting difficulties that lies ahead for Dumbledore (a great performance by Michael Gambon) and company like a massive Herculian task. It's a film, although mainly tinted with pale, eviscerated colors, that supports itself with the strength of its solid 'black and white' visual comparisons (scenes of romance and of downfall). And with that alone, I think the film has succeeded to be a very strong installment in the franchise with such a simple cinematic approach in contrast.

Another note-worthy performance is of Jim Broadbent as Horace Slughorn, a very crucial character that is rightfully downplayed by Broadbent with the needed lack of awareness and apathetic ineptitude towards the darkening weather of events. True, "Harry Potter and the Half-Blood Prince" might as well be one of the most uneventful films in the franchise in terms of action sequences, but as a Potter film that is finally equipped with the needed bridge across a trodden path into an impending end, this is a film of heart-pounding emotional proportions. Raising wands and trickling tears, this one's one of the best in the series.